When Gladys married Frank Chapman, he was recently divorced and had a young daughter Patricia. He kept her away from the spot light as much as possible, but she does show up in a few pictures.
Irvin S. Cobb's 19-year-old granddaughter, Patricia Chapman, broke into the movies as a harem queen. For career purposes she had changed her last name to Cobb, her first to Buff, and was practically down to it. Time Magazine, Dec. 17, 1945 Intake & Outgo
Married. Buff Cobb, 20, cinemactress granddaughter of Humorist Irvin Cobb; and Cinemactor William Eythe, 29; she for the second time, he for the first; in Manhattan. Time Magazine, Jun 9, 1947
Actress Buff Cobb, 21, granddaughter of the late Humorist Irvin S. Cobb, sued her second husband for divorce after seven months of marriage. She said that the husband, Actor William Eythe, had hit her a couple of times last fall. Two days later, in a seesawing mood, she called the whole thing off. Time Magazine, Jan. 19, 1948
Buff Cobb was born in Florence, Italy where her mother was writing a novel while her father sang opera.
She is the granddaughter of Irvin S. Cobb, a successful author Patrizia Cobb
First Husband was Gregson Bautzer (? - ?) (divorced) after 6 months
Second Husband was William Eythe (1947 - 1948) (divorced)
Third Husband was Mike Wallace (1949 - 1954) (divorced) (Yes, that Mike Wallace!)
Buff Cobb was in Chicago when Mike Wallace got out of the Navy in '46. She was playing with Tallulah Bankhead in a play called Private Lives at the time. He interviewed her for his radio show. She was an actress and a glamorous figure. Mike taught her how to do interviewing, and they did a husband and wife broadcast on radio on NBC in Chicago. CBS recruited them to come to New York and do the show on television. It was 5 days a week in the afternoons and broadcast in color as an early color experiment. Later Pepsi sponsored it on Saturday nights. Many figures were interviewed including Micky Spillane and Harry Belafonte.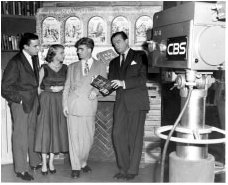 In August 1952, the Mike and Buff Show on CBS-TV was the first to carry a program on the new Revised Standard Version of the Bible. L to R: Mike Wallace and Buff Cobb, Bible scholar Dr. Herbert May, and actor John Loder. National Council of Churches web site.
Actress - filmography
1. Anna and the King of Siam (1946) (uncredited) .... Wife of King
2. Easter Parade of Stars Auto Show (1954) (TV) .... Herself
3. "Masquerade Party" (1952) TV Series .... Herself/panelist (1953-1955)
4. "Mike and Buff" (1951) TV Series .... Herself with Husband Mike Wallace
5. "All Around the Town" (1951) TV Series .... Herself - with Husband Mike Wallace
She passed away on July 12, 2010 at the age of 82 in Lebanon, New Hampshire.